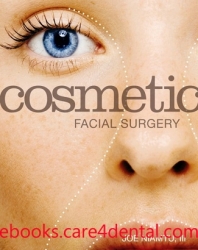 Cosmetic Facial Surgery (pdf)
Author : Joe Niamtu, III,


Take your practice to the next level! Cosmetic Facial Surgery provides a highly illustrated, case-based approach to common face and neck procedures. In this full-color reference, internationally renowned surgeon Joe Niamtu III, DMD, covers techniques including brow, face, and neck lifts; nose, eye, and ear surgery; cosmetic surgery practice with discussions of the process of facial aging, diagnosing and consulting with patients, clinical digital facial implants; skin resurfacing; the use of neurotoxins; and the removal of skin lesions. The book also prepares you for photography, and anesthesia considerations. In a companion DVD, video clips feature Dr. Niamtu demonstrating key procedures addressed in the text.