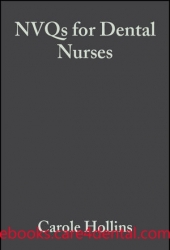 NVQs for Dental Nurses (pdf)
Author : Carole Hollins


NVQs for Dental Nurses provides trainee dental nurses with a central course companion for the National Vocational Qualification (NVQ) Level 3 in Oral Healthcare. It offers comprehensive support on mandatory units of the course in addition to supplying material on the optional units most common to clinical dentistry.

Modern to the core, the book will develop the NVQ dental nurse's understanding of current dental practice, as well as providing refreshing reading for those educated on the 'National' course.

The book positions dental nursing within a progressive education framework and embraces an holistic ethos of patient care. It provides essential reading for students of dental nursing and is a timely addition to the literature for practising, returning or refocusing dental nurses.