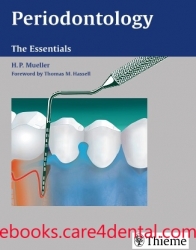 Periodontology: The Essentials (pdf)
Author : Hans-Peter Mueller


This concise summary of the practice of periodontology provides an excellent review of the physiology of the oral cavity, the newest information on diagnosis and therapy of periodontologic diseases, and the theoretical basics.

Practice-related parallel topics such as trauma, material incompatibility, emergency treatment, and antibiotic therapy are covered as well.

This is an excellent guide for dentists and oral surgeons involved in the treatment of periodontal diseases. It makes an excellent companion to the legendary Rateitschak atlas.