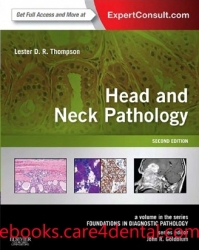 Head and Neck Pathology, 2nd Edition (pdf)
Author : Lester D. R. Thompson


Part of the popular Foundations in Diagnostic Pathology Series, Head and Neck Pathology delivers vital diagnostic guidance in a compact, high-yield format. Concise and easy to use, this pathology reference offers a practical, well-organized approach to evaluating a wide range of specimens in both head and neck and related endocrine pathology.

New to this Edition

Get concise, complete coverage of both head and neck pathology and related endocrine pathology (including salivary, thyroid, and thymus diseases and disorders) – all in one convenient book.
Access the entire book online at www.excpertconsult.com, with a downloadable image bank, references linked to PubMed, and the ability to search across the entire Expert Consult library.