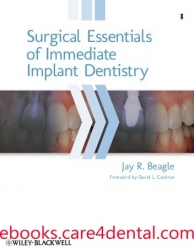 Surgical Essentials of Immediate Implant Dentistry (pdf)
Author : Jay R. Beagle


Surgical Essentials of Immediate Implant Dentistry provides a definitive text on this important treatment modality. Assisting readers to make sense of the various clinical techniques and protocols, Beagle discusses the available underlying evidence to provide a practical, comprehensive and navigable aid to attaining a thorough understanding of this complex and highly relevant subject. All aspects of immediate placement of endosseous implants are clearly and scientifically discussed, enabling the reader to survey the entire subject area, fusing clinical guidance with scientific discussion.

Surgical Essentials of Immediate Implant Dentistry takes pre-operative risk assessment and indications and contraindications for immediate loading as its logical starting point. It then proceeds to examine the treatment of infected sites, extraction site healing, methods of extraction, surgical protocol, and finishes with a discussion of complications.

Surgical Essentials of Immediate Implant Dentistry will find a ready place within libraries of oral and maxillofacial surgeons, periodontists and prosthodontists and will provide all dentists with an interest in implant dentistry with a useful and welcome companion to this expanding area of clinical practice and research.