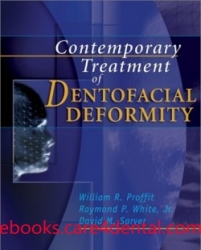 Contemporary Treatment of Dentofacial Deformity (pdf)
Author : William R. Proffit, Raymond P. White, Jr., David M. Sarver


Contemporary Treatment of Dentofacial Deformity
This new full-color reference and textbook on orthodontics and orthognathic surgery includes the latest content on surgical orthodontic techniques. Presenting the most comprehensive and sophisticated information available, it explores the integrated orthodontic and surgical management of patients with dentofacial deformity.

Includes an entire section on diagnosis and treatment planning – with a strong emphasis on the diagnosis of soft tissue problems.
Explains methods for treating certain dentofacial deformities with distraction osteogenesis.
Provides current information on integrated treatment, where the orthodontist, the oral and maxillofacial surgeon, and/or the plastic surgeon work as a team to achieve the ideal result for each patient.
Discusses the newest computer technology for prediction/imaging techniques to view the probable "after" results before treatment ever begins.
Includes up-to-date content on surgical complications and how to manage these problems.
Real-life case studies visually take the reader from pre-treatment to post-treatment for the many techniques taught in the book.
Provides content on adolescent growth and its relation to orthodontic treatment, maturational changes, and the treatment of asymmetric facial deformities with surgery and orthodontics.
Includes colorful cephalometric tracings to illustrate the before-and-after results of surgery.
Pre- and post-surgery cephalometric radiographs show the changes to the structures of the face and jaws.
Full-color images bring the tangible results of orthodontic and oral surgery treatment to life.