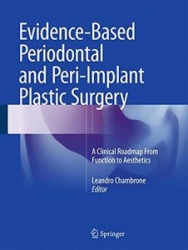 Evidence-Based Periodontal and Peri-Implant Plastic Surgery: A Clinical Roadmap from Function to Aesthetics (pdf)
Author : Leandro Chambrone (Editor)


Evidence-Based Periodontal and Peri-Implant Plastic Surgery: A Clinical Roadmap from Function to Aesthetics (pdf)

From the Back Cover
This atlas, featuring numerous superb illustrations and vivid photographs, aims to create a bridge between research and practice in the field of periodontal plastic surgery and cosmetic dentistry with a view to enabling optimal decision making in daily practice. After an opening overview of evidence-based decision making and discussion of treatment planning, subsequent chapters address the surgical treatment of recession-type defects, use of soft tissue substitutes, aesthetic clinical crown lengthening, and peri-implant plastic surgery. Illustrated case studies depict application of the described surgical procedures in daily practice, and advice is provided on clinical indications and contraindications and basics of the surgical sequence. In addition, critical summaries of the results of systematic reviews are provided. Further chapters consider aspects of multidisciplinary decision-making and present decision trees for soft tissue augmentation procedures proposed by the American Academy of Periodontology. The atlas will be a valuable clinical guide for general dentists and specialists in periodontology/periodontics and implantology.

About the Author
Leandro Chambrone is an Assistant Professor in the Department of Periodontology, Dental Research Division, Guarulhos, Brazil. He has been engaged in private practice since 2000. During this period he gained experience in clinical research and evidence-based dentistry and successfully completed his training in Periodontics (Specialization, Masters, Doctorate, and Post-Doctoral Fellowship) and Orthodontics (Specialization). In addition, he was accepted as a member of the Cochrane Collaboration and joined the Cochrane Oral Health Group in 2007. Beyond his enthusiasm and dedication as a dental clinician, he has a solid background as a researcher. He is the author/co-author of more than 50 scientific articles published or accepted for publication in leading dental journals. In most of these research projects, on topics in periodontics, implant dentistry, and orthodontics, he was the principal investigator. Four of his publications have been among the most cited articles published in the Journal of Clinical Periodontology, Journal of Periodontology (two articles), and Journal of Dentistry during 2012. Dr. Chambrone has acted as a reviewer of trials and studies for eight of the top-ranked dental and medical journals owing to his expertise in clinical research and data pooling and interpretation. In addition, he is the author in charge of preparing the review publication on soft tissue root coverage (periodontal plastic surgery) for the 2014 American Academy of Periodontology Workshop on Periodontal Tissue Regeneration.